How is the Gold Price Determined?
The price of gold rises and falls constantly, and here at Atkinsons Bullion and Coins we have a live feed showing the current gold price, which updates every 60 seconds.
But why does the gold price move, and what factors are at play when determining its value?

There are essentially three different ways in which gold prices can be set. They depend on the circumstances around the order; the terms of which will be outlined before any transactions have occurred.
The Spot Price
This is the most common way that gold prices are determined. Buying and selling bullion at spot price works by setting a value that is defined through supply, demand, and currency strength. When buying bullion like this, the price is set via the market at the exact time of purchase, and is usually displayed in real-time on bullion websites.
The Fixed Price
The fixed prices, also known as 'London Fix' or 'Gold Fix', are agreed and set by governing bodies such as the London Bullion Market Association (LBMA) and Comex (CME) twice daily, at 11am and 3pm GMT.
A fixed price is often used for very large orders of bullion by larger members of the gold industry such as banks and refiners. Fixed prices are taken using an average, and this prevents the minute-by-minute fluctuations from having too much of an impact on bulk buying.
Future Contract Price
This option is when a buyer and seller reach an agreement on price in advance. The price for gold will be set for a specific weight and for the transaction to happen at an agreed time.
How is the Price of Gold Set?
Unlike a regular product, there are more factors at play than just a manufacturer and consumer when it comes to setting prices for gold. This can cause confusion over who is responsible for setting gold prices.
As we touched on previously, the price of gold is determined by a whole host of factors, and one of the most important of these is supply and demand. As gold is considered a rare commodity, it tends to fetch a high price and represents good value for investors.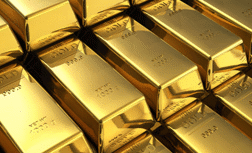 This value means the prices are tightly controlled to prevent any market manipulation from occurring. Several banks and oversight committees sit alongside a panel of internal and external chair members to calculate prices based on supply and demand. This considers data from future derivative markets before establishing an average for both fixed and spot prices.
In the United Kingdom, these derivative markets are controlled by LBMA, and in the United States they are controlled by CME.
How is the Spot Price of Gold Determined?
The spot price for gold is set using an average of forecasted future prices. This is based on traded future contracts for the closest month, known as the 'front month'. Futures markets are the fastest to react to financial events, meaning gold prices quickly adapt.
It's an interesting concept, setting current prices based on future orders, but in reality, advanced financial investments provide an accurate picture of demand. This allows financiers to adjust the spot price accordingly to ensure a buoyant market.
Who Sets the Spot Price of Gold?
As we now know, spot prices are calculated using electronically derived figures from future derivative markets. Advanced algorithms then analyse market data and produce an accurate price, allowing for any fluctuations in either supply, demand, or domestic currencies.
Due to the costs involved with mining, refining, and producing quality gold, investors are almost never able to acquire bullion at spot price. They will instead be required to pay spot plus dealer margins and handling fees, known as a 'premium'. Investing in gold coins or gold bars with low premiums is one of the best ways to invest.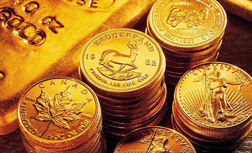 For an up-to-date gold spot price, be sure to check out our live gold and silver prices.
Here at Atkinsons Bullion and Coins, we don't just sell gold and silver, we also buy it too. If you think now is a good time to sell your gold or silver, then our team will offer you market-leading rates. Head over to our sell to us page for more information.
This blog represents one person's opinion only. Customers should conduct their own research and take advice before making an investment. We do not offer investment advice.