10 Interesting Facts About USA Eagle Coins
2021 marked the 35th anniversary of the American eagle coins, some of the most popular bullion coins worldwide with both investors and collectors. The coins have recently begun a new chapter in their history, with the release of the Type 2 eagle coins featuring new reverse designs for the first time ever. But what do you know about these fascinating gold and silver coins? Read on to find out more.
1. The origins of the eagle coins date back to 1792
Beginning in 1792, USA gold eagle coins were offered in various sizes including: the double eagle ($20), the original eagle ($10), the half eagle ($5) and the quarter eagle ($2.50). Originally struck in 22ct gold, these coins were then manufactured in 900.0 gold after 1834.
2. The first modern gold and silver eagle bullion coins were released in 1986
The Gold Bullion Act of 1985 was signed into law by President Reagan and allowed the US to begin minting brand new bullion coins. The American Gold Eagle coin as we know it today was then first released by the United States Mint in 1986. The first American Silver Eagle coin was struck in San Francisco on October 29, 1986.
3. They are guaranteed by the United States Government
USA eagle coins are guaranteed to have a specific weight, purity level, and metal quality involved, which is backed by the US Government. This means that investors are 100% sure of what they are getting for their money.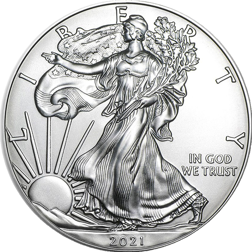 4. Gold Eagle coins are struck in 22ct gold
The USA Eagle gold bullion coins are struck in 22ct gold, meaning that each coin contains around 91.6% fine gold. The rest of the coin is made up of copper and silver alloys to make them more durable compared to 24ct gold coins.
USA Eagle silver bullion coins are struck in 999.0 fine silver.
5. The gold coins can legally only use US gold
A legal requirement when minting the United States Gold Eagle coins is that the US Mint can only use gold that is sourced from the USA. These coins cannot include metal from foreign sources during the minting process.
6. They are legal currency
Not only do they have value as investment commodities due to their precious metal value, but both gold and silver eagle coins also have value as legal currency in the USA. Each coin has a face value, with the gold version being from $5 to $50 dollars (depending on the size and weight of the coin), and the silver version being $1.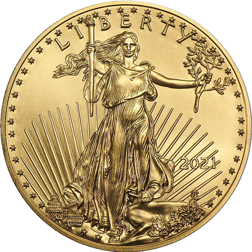 7. Roman Numerals were used until 1992
Until 1992, the date of minting was shown on the coins using Roman Numerals. From 1992 onwards, the US Mint switched to using Arabic numbers instead, mainly due to confusion among some investors and collectors who struggled to read Roman Numerals easily.
8. The obverse designs always feature Lady Liberty
The obverse of the gold coins features a rendition of Augustus Saint-Gaudens' figure of Lady Liberty walking gracefully as the sun rises over a ridge, her hair billowing in the wind as she holds an olive branch and a lit torch symbolising safe and peaceful passage into the future.
The obverse of the silver coins was designed by Adolph A. Weinman and features the Lady Liberty draped in an American Flag, walking gracefully as the sun rises. Inscribed upon each coin is 'In God We Trust'.
9. The reverse design of the coins has remained the same each year – until now
American eagle coins have featured the same designs each year since their inception in 1986.
The gold coins feature a design created by sculptor Miley Busiek, showing a male eagle carrying an olive branch whilst he flies above a nest containing a female eagle and her hatchlings.
The silver coins feature a heraldic eagle and 13 small stars, representing the original colonies.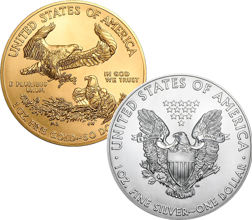 10. As from 2021, 'Type II' coins featured new reverse designs for the first time ever
In 2021, the USA eagle gold and silver coins began a new chapter in their history to mark their 35th anniversary with the release of the 'Type 2' eagle coins. For the first time ever, these coins featured new reverse designs.
As from 2021, USA Eagle Gold Coins feature a brand-new design which shows a detailed close-up portrait of a bald eagle, by artist Jennie Norris.
As from 2021, USA Eagle Silver Coins bear a brand-new design showing a beautifully detailed majestic eagle coming into land with an oak branch in its talons.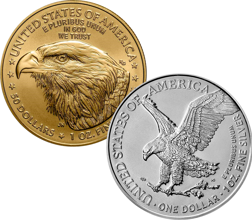 This blog represents one person's opinion only. Customers should conduct their own research and take advice before making an investment. We do not offer investment advice.