When Is a Good Time to Sell Gold & Silver?
If you have gold or silver coins and bars that you are thinking of selling, there are a few factors to bear in mind. Whether you decided to invest in gold sovereign coins or maybe even inherited a coin collection, working out when is the best time to sell your gold and silver can sometimes seem tricky.
This blog may help you decide whether you should sell your gold and silver coins and bars, and how to do it.
Here at Atkinsons Bullion and Coins, we are accepting deliveries via Royal Mail for you to send your coins and bars to us, or you can call us on 0121 355 0620 to make an appointment to come into our secure showroom and sell your precious metals to us.
Why is gold & silver so valuable?
Gold and silver have been regarded as a valuable asset to own throughout the history of mankind. Both have been used as currency for thousands of years, and even in today's modern technological times, are still a store of value. Gold and silver are a unique investment that has been proven to hold their value even in the most testing of times.
What is the value of gold & silver today?
Whilst a milestone like buying your first home or saving for retirement may lead you to consider selling the coins and bars you have been holding onto, another key indicator to factor in is the price of gold or silver. As with any investment, the aim is to be able to sell when demand is high and make a profit from your bullion.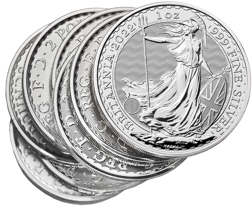 However, predicting when the price of gold and silver will rise, or fall is not an exact science. When the economy has been impacted by events such as the 2008 recession, the 2016 Brexit vote, and most recently the effect of the 2020 Covid-19 pandemic, the price of gold has soared. As other markets crashed during these times, investors have turned to gold and silver to protect their wealth from financial instability. With economic uncertainty due to the fallout from the pandemic, the demand for gold and silver coins and bars is incredibly high. Rises in inflation have also had a significantly large influence over precious metals.
Whilst it can be a little tricky to predict changes to the precious metals market, gold and silver have maintained an intrinsic value, and trends show that prices have risen significantly long term. Spot prices will tell you the current value at any given time. Our live gold and silver pricing charts are updated every 60 seconds, so you can ensure that you have the latest information to find out the value of your gold and silver assets.
How do I find the best price for my gold and silver?
Whilst you may be thinking about selling your gold and silver to pay off bills, or maybe you'd like to keep some cash back for unexpected costs, you will get the fairest price for your bullion by selling to an established and trusted business that specialises in gold and silver assets.
Atkinsons are always happy to offer you the very best price for your gold and silver bullion items and have a team of experienced appraisers to give you an accurate indication of the price of your goods, ensuring you get a fair price every time. For over 30 years, we have prided ourselves on providing a value-driven service for our customers. If you're looking to sell coins or bars, we specialise in the purchase and sale of gold and silver, providing a trustworthy service to customers throughout the UK.
You can see an up-to-date list of the current prices we are paying for some of the most common products such as Britannias and Sovereigns etc. on our 'Sell to Us' page. Prices vary depending on the item.
Once you have decided you would like to sell your gold and silver, you can send your items to us through the post. Your coins and bars should be sent to our usual address via Royal Mail Special Delivery, ensuring each parcel you send to us does not have a value exceeding £2,500 for Royal Mail insurance purposes – you may need to split your products into multiple parcels. The price will be confirmed with you via phone call upon receipt and validation of your gold or silver, and then payment will be made straight into your bank within 72 working hours*.
Please see the video below for instructions on how to post your items to us.
Alternatively, you can visit us in our secure showroom and sell your gold and silver items to us. Please contact us to make an appointment.
To see the current prices we are paying for your gold and silver items, please click here. You can also email us at info@atkinsonsbullion.com for a quote based on live gold and silver prices, and we will get back to you as quickly as we can.
This blog represents one person's opinion only. Customers should conduct their own research and take advice before making an investment. We do not offer investment advice.