2023 UK King Charles III Gold & Silver Britannia Coins
The Royal Mint have now launched a second 2023 Britannia coin, due to the accession of His Majesty King Charles III. The first ever Britannia not to feature Queen Elizabeth II, these coins feature the brand new effigy of King Charles III, designed by Martin Jennings, on the obverse.

These 2023 King Charles III Britannia coins are available in fine gold in a range of weights including 1oz, 1/2oz, 1/4oz and 1/10oz. A 1oz silver coin is also be available.
The reverse of the 2023 UK King Charles III Britannia Gold & Silver Coins bear the classic standing Britannia design as designed by Philip Nathan.
2023 King Charles III Britannia coins are legal tender in the UK, making them exempt from Capital Gains Tax for investors.
As these coins feature a change of obverse design to show the first definitive coinage portrait of His Majesty The King, they are a popular choice for investors and collectors looking to mark the new chapter in this iconic British coin series.
These coins are available to pre-order from 9am on Tuesday 17th January 2023.
Despatch of 2023 King Charles III Britannia 1oz & 1/10oz gold coins, & 1oz silver coins, is scheduled to begin on 24th January 2023. Other weights will be despatched at a later date, subject to The Royal Mint's discretion.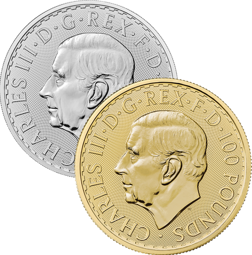 This blog represents one person's opinion only. Customers should conduct their own research and take advice before making an investment. We do not offer investment advice.