10 Of The Rarest And Most Valuable Coins in the World
Coin collecting, otherwise referred to as 'numismatics', can be both a hobby and an investment, and there are some gold and silver coins whose value can defy all expectations. Here we have listed ten examples of the rarest and therefore most valuable coins in the world.

10. 1344 Edward III Gold Florin
Also referred to as the 'Double Leopard', the Gold Florin coin was introduced by King Edward III in 1344. With a face value of just 6 shillings, it was intended to be a form of legal tender throughout Europe but was withdrawn from circulation after just a couple of months.
The coin's design featured an image of the Royal Cross on the obverse, and the King on his throne, with a leopard's head to both his left and right, on the reverse.
Acknowledged as the rarest coin in the history of British numismatics, there are only three of these coins that are known to exist. One is privately owned and was sold at an auction in July 2006, with the final sale price of this 1344 Edward III Florin being £460,000: a record price for a coin of British origin. The other two are currently exhibited in the British Museum.
9. 1907 Gold Saint-Gaudens Double Eagle (High Relief)
Released in 1907 with a face value of $20, this gold coin was designed by famous sculptor Augustus Saint-Gaudens. However, the high relief strike of the coin made it difficult to be struck meaning less than 30 pieces were produced. The coin's design was subsequently modified on several occasions and it continued to circulate until 1933.
Two coins featuring the 1907 high relief design are housed in the Smithsonian museum, while another was sold at an auction in 2005 for almost $3 million.
8. 1822 Half Eagle Gold Coin
The 1822 Half Eagle gold coin is currently one of the rarest coins in existence. Released with a $5 denomination by the U.S. Mint, the eagle design was created by John Reich.
Approximately 17,800 pieces of the 1822 coin were made, yet only three are still believed to exist today. Two of them are currently located at the National Numismatic Collection of the Smithsonian Institution. The remaining Half Eagle coin was sold for almost USD $700,000 back in 1982.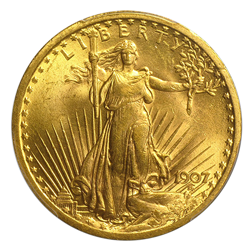 7. 1913 Liberty Head Nickel
The Liberty Head Nickel was initially issued in 1913 and carried a face value of just 5 cents. An unusual one for this list, as although it is one of the most valuable coins ever sold at an auction, it also holds the title of the 'most valuable non-precious metal coin'.
The coin was created without being approved by the US Mint, and only a very small number made it through the production process. In fact, their existence wasn't even widely known until 1920, as they were all owned by former US Mint worker Samuel Brown.
In 1972, one of these limited-edition Liberty Nickels went on to become the very first coin to achieve a sale value of USD $100,000. Only five of these coins are thought to be around today, with one selling for an incredible $3.7 million in 2010.
6. 1804 Silver Dollar
Whilst the name would suggest it was minted in 1804, this Silver Dollar did not obtain minted status until the 1830s.
The 1804 dollar coin was created during Edmund Roberts' diplomatic efforts as part of the gifts bestowed upon Siam and Muscat. The coins can be separated into three distinct classes, with just 15 coins believed to exist in total.
The Class I division is believed to be the most valuable of these pieces, with one that was previously owned by the Sultan of Muscat being sold for $4.1 million in 1999.
5. 2007 'Big Maple Leaf' 100kg Gold Coin
The very first coin to obtain a face value of $1,000,000, six record-breaking 100kg Queen Elizabeth II Maple Leaf coins were produced by the Royal Canadian Mint in 2007.
With an image of Queen Elizabeth II on the obverse and a trio of Maple leaves on the reverse, these massive coins were produced with the aim of showcasing the new edition Canadian Maple Leaf gold coins.
4. 1787 Brasher Gold Doubloon
The 1787 'Brasher' Doubloon Gold Coin was created by its namesake: goldsmith Ephraim Brasher. Brasher single-handedly crafted this gold coin of his own accord, alongside copper coins, when the State of New York legislature refused his appeal to mint new copper coins.
There are a couple of variants, each including Brasher's hallmark. One coin, which included the hallmark on the eagle's breast, sold for an astounding $7.4 million in 2011, whilst another with marks on the eagle's breast fetched £4.5 million just three years later. There are only a couple of these coins still in existence today.
3. 1933 Double Eagle Gold Coin
In 1933, the Double Eagle gold coin was minted by the U.S. However, the coin was withdrawn from circulation later that year, despite over 400,000 specimens being created.
Despite the considerable number of coins that were produced, it wasn't actually circulated, and the vast majority of pieces were melted down, with a few also being stolen and eventually obtained by collectors. Some of the stolen coins were retrieved and subsequently destroyed. There are therefore believed to be less than 15 pieces remaining today, including one which sold in 2002 at an auction for a staggering $7.59 million.
Two are also housed at the U.S. National Numismatic Collection, whilst an impressive 10 coins are currently situated in Fort Knox.
2. Silver Flowing Hair Dollar
The very first dollar coin to be issued by the U.S. federal government, the Flowing Hair dollar silver coin was minted back in 1794.
The coin was designed by Robert Scot and its size and weight were intentionally similar to the Spanish dollar, which was a popular coin at that time. Consisting of 90% silver and 10% copper, the coin featured a bust of Lady Liberty on one side and the image of an eagle on the other. This coin ceased circulation the following year - however, its historical significance and current rarity makes it a favourite amongst many collectors.
In 2013, a specimen of the 1794 Flowing Hair silver dollar sold at auction for a then record-breaking $10 million.
1. 1849 Double Eagle Gold Coin
With just one coin currently in existence, the gold 1849 Double Eagle is considered the rarest and most valuable coin in US history. One of just two trial pieces that marked the era of the $20 coins, nicknamed Double Eagles, the coin was minted in 1850, though it is marked with the year 1849, and production of the coin coincided with the start of the California gold rush.
The one remaining specimen is carefully preserved at National Numismatic Collections at the Smithsonian Institution. The 1849 Double Eagle is currently the rarest and most valuable coin in the world, with an estimated value of around $20 million.
What makes a coin so valuable?
A combination of rarity, history, condition, and precious metal type are usually the recipe for a high value coin.
Most of us cannot afford to get our hands on the most valuable coins in the world, and even fewer will. be lucky enough to unearth one using a metal detector on a beach. We may, however, be able to discover and enjoy their beauty and history by viewing them whilst on display in a museum collection. To coin collectors and investors, each gold or silver coin is valuable – it is a little piece of history we can hold in our hand, and preserve for the future, and that is what determines the true worth of the most valuable coins in the world.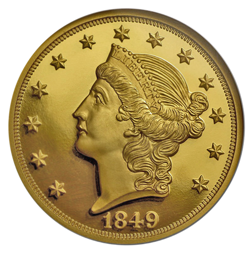 This blog represents one person's opinion only. Please note, gold and silver prices may go down as well as up. Atkinsons Bullion & Coins accepts no responsibility for any losses based on information we have provided. We do not offer investment advice. Please carry out your own research before making an investment decision.