How Do I Make a Profit from Buying And Selling Gold?
When it comes to investment decisions, buying and selling gold can be a valuable asset, particularly in an uncertain economic environment. Investing in this precious metal is seen as a refuge, thus preserving and increasing in value when other assets may be decline.
Making this asset profitable can come through buying gold in the form of coins or bars. Here at Atkinsons Bullion, we have a guide, showing you how to buy not just gold and silver coins, but also gold and silver bars too.
If you are wondering how to make a profit from this precious metal, our latest piece will explain how you could make gold profitable by buying and selling gold coins and bars.*

What to look out for when buying gold
Just like any investment, investing in precious metals is never 100% guaranteed to bring a profit. Whether it's your first time or you have previous experience in buying and selling gold, there are a few things you need to look out for when buying this asset which may help.
Buying local UK gold coins
It's important to remember that when you are investing in gold, you buy the right gold coins to maximise the profitability of your assets. Rather than buy gold coins that are from Europe or the Americas, the best investment you can make is purchasing UK-based gold coins that are issued by The Royal Mint, such as Britannias and Sovereigns as they are capital gains tax free.
Buying Britannias and Sovereigns allows you to maximise your gold prices, as well as avoiding the need to pay a capital gains tax (CGT) on your gold coins. If you were to buy non-UK bullion coins, then you'd need to consider that you may have to pay tax on any profits you make.
Investing in dependable liquid gold coins
Waiting and hoping for an obscure gold coin to give you a higher than market price value can do more harm than good for your bottom line. That's why you should invest in coins which hold a high liquid value such as Britannias, Sovereigns or Krugerrands as they allow you to build a solid gold portfolio to work from.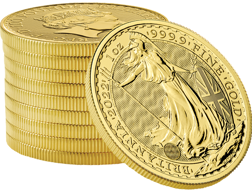 Gold coins can vary in liquid value, with some coins being easier to sell than others. Coins from questionable sources can make it difficult to find a buyer, which is why it's important that you have a good gold portfolio in a big buyer's market, as it makes it easier to sell gold coins.
Buy physical gold and silver
Buying physical gold and silver means that not only can it be used to fully insure anything in your portfolio, but also as a financial planning tool for saving money over a long period of time.
Many people who invest in non-physical gold believe that they own gold on paper, but do not realise that there is not enough of the precious metal available physically. When it comes to buying gold and silver in times of a financial crash, make sure you own those assets in physical form as certain paper products come with no guarantee of you owning gold.
How to buy gold online
If you are new to buying gold or silver, then our experienced bullion dealers will help you with the process of buying bars and coins for your portfolio. The first thing you will be thinking is whether to buy gold or silver, or even buy both of these precious metals? Buying gold and silver online is straightforward and you can purchase it from the comfort of your own home.
There's no limit to how much of these precious metals you can buy as part of your investment portfolio. Here's a five-step process to buying gold and silver online on the Atkinsons Bullion website:
Five steps to buying silver and gold online on the Atkinsons Bullion website:
Create an account on our site, which takes a few minutes to do.
Go to the Gold or Silver product pages, where you can find a selection of gold and silver bars, coins and bullion from the UK to buy from.
Once you have found the gold and silver products you want to buy, select the quantity you would like to purchase by going to the product page or in the basket.
You can pay for your gold or silver through a credit or debit card (subject to limits) or via a bank transfer or cheque.
You can then decide to have your gold or silver delivered straight to your home or you can arrange to collect the product you ordered online in-store (full payment must be made prior to collection).
Buying and selling gold with Atkinsons Bullion
There's never been a time in history where buying gold and silver products has been easier with the advent of the internet. It can be nerve-wracking at first to invest in one of the oldest forms of real money, but it can be a valuable asset to have in the current economic climate.
At Atkinsons Bullion and Coins, buying gold is not only for private investors, but also corporate clients and small-to-medium-sized businesses. You can speak to our team who can help you with any questions you have about buying, and also selling the gold and silver bars, coins and bullion in your portfolio.
This blog represents one person's opinion only. Customers should conduct their own research and take advice before making an investment. We do not offer investment advice.