Why Does the Price of Gold Fluctuate Daily?
Gold is a valuable asset, not just for investors, but for central banks and countries as it can be traded between investors as well as being easily made into coins and bars to buy and sell.
The price of gold was used to determine the currency value of the United Kingdom until 1931, when the gold standard was abandoned. Since 2014, no nation uses the gold standard as a basis for their monetary system although many countries hold substantial gold reserves.
So how does the price of this valuable asset change or fluctuate each day? Atkinsons Bullion will guide you through the price of gold changes and fluctuations over 24 hours and how that has an impact on gold prices.

How is the price of gold calculated in the United Kingdom?
In the UK, the official price of gold is set twice a day at 10:30am and 3:00pm GMT. For Christmas Eve and New Year's Eve, there is a morning fix which is called Gold Fixing and that's decided by the London Bullion Market Association (LBMA).
Officially, Gold Fixing is used to decide contracts with members of the London Bullion Market. Gold Fixing is also used unofficially as a benchmark to price gold across the world.
There are many factors that the LBMA takes into consideration when deciding the price of gold for that particular day. These include supply and demand, economic and political uncertainty, central bank buying and selling and inflation.
How often does the price of gold change?
Throughout the day, the price of gold per gram changes in response to trading that takes place via an anonymous auction every 45 seconds.
The gold buying and selling activity is carried out by investors, central banks, and consumers from all over the world, which impacts upon the price of gold per gram. There are two pricing models that are used to determine the price of gold in the UK by the LBMA: the gold spot price and gold futures price.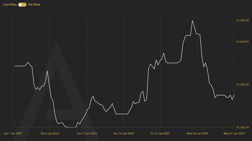 A recession or an economic downturn can have a major impact on the gold price due to the fact that gold is seen by the world's central banks as a valuable asset. This means that the central bank will increase their gold exposure.
Why do gold prices fluctuate?
Gold prices can fluctuate over 24 hours for a variety of reasons. As there is a finite amount of gold in the world, any increase, decrease or sudden change in the demand for gold bullion will have an impact on its price.
Low interest rates, as well as rising inflation can also affect gold prices. It's based on a theory that if paper money loses its value, then buying gold has a stronger purchasing power for buyers.
However, we don't know this for certain as past performance cannot ensure future growth but can be used as an indicator for future gold prices.
These are a few of the reasons why the price of gold can fluctuate. The level of economic uncertainty in the future can also play its part with investors buying or selling gold as gold is seen as a safe haven in difficult and troubled times.
Will gold prices rise?
After the record prices we saw in 2020, 2021 saw a lacklustre year for gold prices as the world's stock markets were starting to recover from the pandemic. 2022 and the first half of 2023 saw the price rise once again due to economic factors and geopolitical issues.
Beyond this, we will most likely see various factors that could influence the gold price for the year. This is dependent on a number of drivers, which may include monetary policy changes and geopolitical issues.
The future and demand for gold
Now over 3 years after the start of the pandemic in March 2020, the future demand for gold remains dependent on not only supply and demand, but also the price of gold in 2023 and beyond.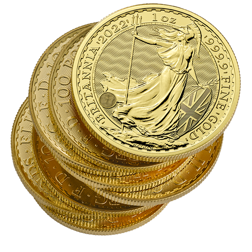 The forecast for the gold prices is uncertain, as it is expected to fluctuate throughout the year due to economic factors like inflation and geopolitical events such as the Russia and Ukraine conflict.
If you want to know how to buy gold at Atkinsons Bullion, we have a guide that is dedicated to helping you know about how to buy not just gold bars, but also gold coins too.
Atkinsons Bullion caters private investors as well as corporate clients and companies who are looking to hold gold in their portfolios. You can speak to our team to get more information about how you can buy gold for your portfolio.
This blog represents one person's opinion only. Customers should conduct their own research and take advice before making an investment. We do not offer investment advice.