Coin Grading – Is It Better to Buy Graded Coins?
If you are new to buying gold and silver bullion or coin collecting, you may have heard about graded coins. The grading system may seem a little daunting at first glance, but in this article, we will explain how and why coins are graded, as well as ascertain whether the grading process can make a significant difference to the value of a coin.

What is coin grading?
Coin grading is a process carried out by a professional, recognised person or company to verify the 'grade' of a coin.
Knowing how coins are graded can help to determine the physical condition and value of a coin, with coin grades ranging from poor to perfect. However, the majority of coins fall somewhere between these two extremes. Once a coin is graded, a collector is then able to easily recognise a coin's condition, original strike type, and authenticity.
The grading system
Coins are now graded based on what is referred to as the 'Sheldon System'. A 1 to 70-point grading scale developed by William Sheldon in 1949, this system is widely accepted across the world as the fundamental standard of quality for graded coins.
Using this scale, as the numeric grade increases, the coin's condition is considered to be finer. For example, a coin with a rating of 1 represents a barely identifiable coin, whereas a 70 represents a physically 'perfect' coin with a full strike and no markings (though these are extremely rare).
There are many professional grading services around the world, with the Professional Coin Grading Service (PCGS), and the Numismatic Guaranty Corporation (NGC) being the best-known. For a fee, these companies will grade a coin, certify the grade, and then seal the coin within a special tamper-proof holder (also known as a slab).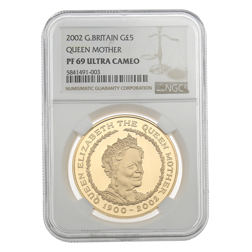 The Numismatic Guaranty Company (NGC) is the world's largest grading service and use the Sheldon scale of 1 to 70. In addition, NGC also uses a two-letter code before the numeric grade, describing a coin's appearance and strike type. The most common are:
'MS' (Mint State) for coins struck for general circulation
'PF' (Proof) for coins struck for collectors
'SP' (Specimen) for coins somewhere in between proof & circulated
Strike characters are also used by NGC to describe how well a coin is struck. For example, the degree of contrast on a Proof coin can be described as 'Cameo' or 'Ultra Cameo', and non-Proof coins with mirrored fields can be described as 'PL' (Proof Like), or 'DPL' (Deeply Proof Like).
NGC also recognise coins received for grading within a specific time or particular event. 'Early Releases' or 'First Releases' are those received for grading during the first 30 days of release.
Different coin grading services also have their own grades using the Sheldon system, with unique specifications.
Are graded coins worth more?
Not in all cases. The value of a graded coin depends heavily on the current worth of a coin. Some collectors may choose to pay more than the actual metal value or face value of a coin because it is extremely rare or in extremely good condition.
Proof coins are higher quality coins which are struck specifically for their collectable value. Coin collectors will often pay a little more for a graded version of these coins, if they feature a particularly high grade.
Bullion coins are sometimes graded if they are from a first batch of coins and are in particularly nice condition. These coins then become 'First Release' coins, are certificated and then encased within a slab. The certification of these coins mean they often appeal to collectors who are willing to pay more for the certification and aesthetic quality of a graded bullion coin.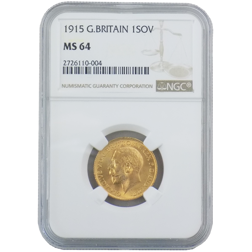 Should I buy graded coins?
If you do not stand to gain any monetary value from buying a graded coin, then there's no need to do so, unless you want to have clear proof and certification of its authenticity.
It's worth remembering that the main reason that many collectors choose to own a graded coin is purely to have certification from a third-party grading system, as well as to have its aesthetic quality and authenticity determined. Collectors of older coins, such as dated sovereigns, sometimes choose to buy graded versions as they are then assured that the coin is authentic and of good quality for its age. However, when attempting to sell graded coins, this can often mean a longer wait for a collector who is willing to pay that little extra for the collectable value.
Atkinsons Bullion and Coins have a wide selection of coins, which often includes graded coins in both gold and silver. Stock of these is added frequently, so keep checking back with us.
This blog represents one person's opinion only. Customers should conduct their own research and take advice before making an investment. We do not offer investment advice.