When Is the Best Time to Sell My Gold?
Whether you decided to invest in gold sovereign coins or maybe even inherited a collection of gold Britannias, working out when is the ideal time to sell your gold can sometimes seem tricky. In this article we will discuss the main factors that will help you decide when the time is right to sell your gold coins and bars.

What is the value of gold today?
Gold has maintained an intrinsic value throughout history. Used as a form of currency for thousands of years, and still today in modern technological times, gold is a unique investment that has been proven to hold its value even in the most testing of times.
The price of gold fluctuates constantly and predicting when it will rise, or fall is never an exact science. Previously, at times when the economy has been impacted by unpredictable events such as the 2008 recession, the uncertainty of the effect of the 2016 Brexit vote on financial markets, and the coronavirus pandemic, the price of gold has soared. As other markets crashed during these times, investors turned to gold to protect their wealth from instability, and demand is high. Many investors choose these times of high prices and high demand to sell their gold.
Today, live spot prices are published so you are able to view the current value of gold at any given time. Our live gold price chart is updated every 60 seconds, so you can ensure that you have the latest information to find out the current value of your assets.
The fluidity of gold
Assets are a great way of protecting wealth, and the ability to sell them in order to liquidate funds can be a key consideration when investing. Gold is often the asset of choice for many investors as a way to protect their financial future, as coins and bars can be easily stored and/or broken down to use as and when required.
Gold bars and coins can be sold virtually instantly, anywhere in the world, due to their recognisable store of value.
When should I sell my gold?
The ideal time to sell your gold is determined by two main factors: the current price of gold and the necessity of the sale at the time.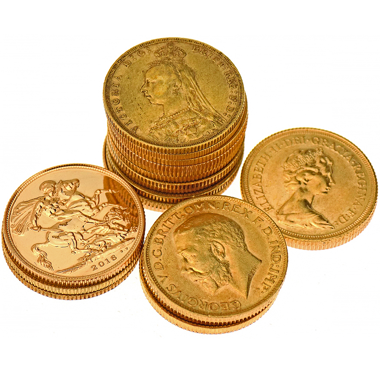 The current price of gold is one indicator of whether you should sell your coins or bars. The well-known phrase 'buy low, sell high' is as applicable for the gold market as it is for every other asset or investment.
Another factor is an investor's personal circumstances. A large purchase, bill payment, or milestone such as buying a home or car, or saving for retirement may lead you to consider selling all or part of your gold investment to release the cash needed.
How can I find the best price for my gold?
You will get the fairest price for your bullion by selling to an established and trusted business that specialises in gold and silver assets.
Atkinsons Bullion and Coins will always aim to offer you the very best price for your gold and silver bullion items and have a team of experienced appraisers to give you an accurate indication of the price of your goods, ensuring you get a fair price every time. If you're looking to sell coins or bars, we specialise in the purchase and sale of gold and silver, and have provided a trustworthy service to customers throughout the UK for over 30 years.
You can see an up-to-date list of the current prices we are paying for some of the most common products such as Britannias and Sovereigns etc. on our 'Sell to Us' page. Prices vary depending on the item. Once you have decided you would like to sell your gold or silver, you can send your items to us through the post or contact us to arrange to bring them into store.
If you think now is a good time to sell your gold, then Atkinsons Bullion would be happy to help, our team will offer you market-leading rates. For more information and to obtain a quote based on live gold prices, you can email us at info@atkinsonsbullion.com or call us on 0121 355 0620.
This blog represents one person's opinion only. Customers should conduct their own research and take advice before making an investment. We do not offer investment advice.