10 Facts About The Britannia Coin
Since it was first launched, the Britannia coin has become extremely popular with both investors and collectors. 2023 marked a new chapter in the coin series as the 2023 King Charles III Britannia coins became the first ever Britannias not to feature Queen Elizabeth II on the obverse.
Struck in both gold and silver by The Royal Mint for over 30 years, how much do you really know about the iconic Britannia coin?
1. The first gold Britannia coin was minted in 1987
The idea for a Gold Britannia coin came about due to demand for a one-ounce British gold bullion coin that could compete with the already popular South African Krugerrand, Canadian Maple and American Eagle gold coins.
2. It was first produced in 91.6% gold
When launched in 1987, the Britannia was produced in 91.6% (22ct) gold, alloyed with copper. This was then changed in 1990 when the 22-carat fineness was maintained but the alloy was changed to silver, changing the colour from a reddish to a yellow gold.
In 2013, the fineness of the Britannia increased to 999.9 (24ct) gold and remains that way today.
3. The first silver Britannia arrived 10 years later
Silver Britannia coins were minted from 1997 onwards (the first year released only as a proof coin) and were minted in 'Britannia Silver' (958.0 purity). From 2013 onwards, the silver 1oz coins have been minted in 999.0 silver.
4. The image of Britannia was first featured on Roman coins way back in 119AD
'Britannia' was the Roman name for Great Britain. It was commonplace for the Romans to personify countries as female figures, and so the early coins showed Britannia in female form to depict the colonisation of a conquered Britain.
5. Britannia has appeared on coins issued under every British monarch since the seventeenth century
During the reign of Charles II, Britannia made a comeback on Britain's coins and was portrayed as a symbol of protection, the ruler of the seas, after it was pointed out that Britannia had been shown on Roman coins seated amongst the waves. Britannia has since appeared on coins issued under every British monarch since the seventeenth century, her image altering subtly over time, yet always undeniably a great British symbol of unity, liberty and strength.
6. The design of the Britannia coin has changed, on occasion, throughout the years
The iconic reverse design is by sculptor Philip Nathan, and was first created for the coin's 1987 launch, portraying the heroic figure of Britannia in long flowing robes standing upon the rocks. In her right hand Britannia holds her trident, while her left hand holds an olive branch and rests upon a shield, representing peace and protection. However, there have been a few variations over the years, including two standing poses, a seated pose, Britannia riding a chariot, a helmeted Britannia, and Britannia with the Union Jack flag.
7. The Britannia coin has featured exciting new changes since 2021
From 2021, the coins featured the familiar and iconic Britannia design by sculptor Philip Nathan, but with some new tweaks added. For these coins, the Royal Mint uses specialist high-tech lasers to add layers of new security features, including: a latent image, micro text, surface animation, and tincture lines.
These new features make the Britannia coins one of the most visually secure coins in the world, adding a practical solution to counterfeiting, as well as enhancing the beauty of the classic design.
8. The Britannia is exempt from Capital Gains Tax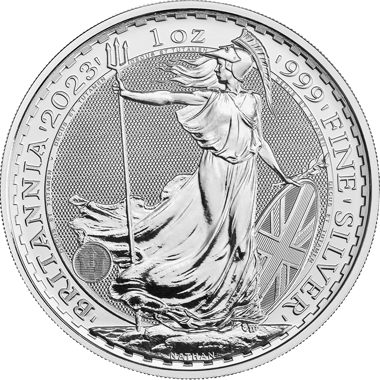 Along with the gold UK Sovereign coin, gold and silver Britannia coins are exempt from Capital Gains Tax (CGT) for UK investors, as the Britannia is a legal tender coin and sterling currency.
9. Fractional sizes are available
Gold Britannia coins are available as a 1oz coin; however, they are also issued in smaller fractional sizes of one-half, one-quarter, and one-tenth of a troy ounce with face values of £50, £25, and £10.
10. The Britannia is recognised worldwide
As one of the world's most beloved and recognisable coins, the Britannia can be traded virtually anywhere in the world, at any time. To date, millions of ounces of gold and silver have been used in the minting of the Britannia, and the coin remains one of the most traded gold bullion coins in the world.
With so much rich history behind it, the UK Britannia is surely a coin to possibly consider adding to any precious metals investment portfolio for those looking for a dependable coin for investment.
If you have any questions or would like to know more about buying or selling gold or silver bullion, please call and speak to a member of the team on 0121 355 0620 or send an email to info@atkinsonsbullion.com.
Shop Gold & Silver Britannia Coins
This blog represents one person's opinion only. Customers should conduct their own research and take advice before making an investment. We do not offer investment advice.