Are Gold Sovereigns a Good Investment?
Gold sovereigns are one of the most popular investment coins available in the UK. The Sovereign coin as we know it today was first minted in 1817 as a British one-pound coin for circulation.
After the economic crisis that followed the Napoleonic wars, the British government had to restructure the coinage system around a 'gold standard' - this designated how much gold a piece of currency was exchangeable for.
Made from 22ct gold and weighing 7.98g, we often get asked, "are gold sovereigns a good investment?" In this guide, we'll take a look at why you could consider investing in gold sovereigns.
Why Invest in Gold?
Before exploring gold sovereigns as an investment, we need to remember why you should invest in gold at all.
If you speak to a financial investor, you probably won't be surprised to hear them advise that you buy gold as part of having a diversified portfolio. In the same way stocks do, the price of gold increases and decreases all the time. However, gold has always held its value throughout history - especially during a financial crisis and the volatility of other markets.
There are a few ways you can invest money in gold, including: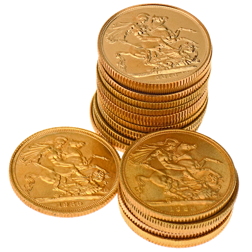 Why Invest in Gold Sovereigns?
Many numismatists love to collect gold coins and sovereigns because they want to cherish the age, beauty, weight and work of the coins by holding them. However, investors see gold sovereigns differently, with three reasons making them a desirable asset:
1. History
British gold sovereigns were first minted during Henry VII's reign in 1489. The most famous design dates back to 1817, and features St George and the dragon which was the creation of engraver, Benedetto Pistrucci. Originally minted in London, between the late 1800s and early 1900s, thousands of sovereigns were then made across the world, including Australia and South Africa. Mints were situated in Bombay, Melbourne, Ottawa, Perth, Pretoria and Sydney.
During 2017, the gold sovereign reached its 200th anniversary. The sovereign is still the flagship coin made by the British Royal Mint, with numismatists and investors sharing the enthusiasm for its history and tradition.
2. Easy to Buy and Sell
While gold sovereigns have a face value of just £1, each coin holds a greater true value because it's made out of 0.235 troy ounces of gold. The small size of sovereigns makes them very popular when compared to 1oz coins, including the Britannia and Krugerrand. It's far easier to buy and sell small amounts of gold sovereigns, making them more affordable to investors, even more so than gold bars.
3. Tax Exemptions
Investors like to trade gold sovereigns because they can save tax on the purchases. Every British sovereign and Britannia coin produced after 1837 is exempt from Capital Gains Tax (CGT). This is because they are considered legal tender under British law. Gold bullion coins are also exempt from VAT.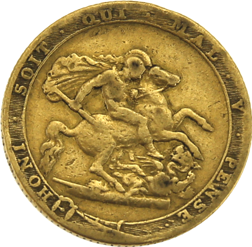 Rare Sovereigns
There are many collectible coins that can exceed their precious-metal value. For example, the King George III 1819 Sovereign is one of the rarest coins in the world and it's thought that only ten in the world exist. Because of this, the price commanded for one is huge, even if it isn't in the best condition. In 2013, a fine example of the coin was sold at auction for £186,000.
With less than 25 known to be left in the world, the 1859 Victoria 'Ansell' coin is another sovereign that collectors and investors want to find. Ansell was a chemist who experimented with rejected sovereigns and developed a stronger alloy for the Royal Mint to use in production. One of these coins was sold in pristine condition for £15,000 in 2012.
Gold Proof Sovereigns
Not all coins were released as legal tender. Proof coins were made to test the quality and design of a coin before it entered mass production. As these became collectible over time, mints produced stunning limited-edition Proof coins just for collectors. These coins are double pressed to ensure a better than normal finish.
Recently, the Royal Mint has produced Proof versions of all their gold British sovereigns, which are sold with certificates in display cases. The 1989 proof sovereign was produced for the 500th anniversary of the English Sovereign and was only ever minted as a proof coin. It has an unusual design that reflects the original 1489 English Sovereign.
Half Sovereign & Quarter Sovereign
Alongside the British Sovereign, the Royal Mint introduced a Half Sovereign in 1817. This 10 Shilling or half pound face value coin has become just as collectible as a one-pound sovereign.
The Half Sovereign gives new investors a way into coin and bullion investment due to their reasonable values. The Half Sovereign became so popular, that in 2009 the Royal Mint added a Quarter Sovereign to its range.
Conclusion
The British gold sovereign may go up and down in value, but this also happens with stocks and shares. It's worth remembering that no matter when you invest in gold sovereigns, they will always have a real and permanent value - something that isn't guaranteed with shares and crypto currencies.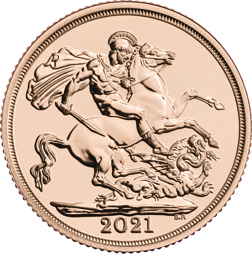 While gold sovereigns hold their spot market value no matter what happens in the world, some sovereigns you invest in could rise in value because of rarity, aesthetic and historical appeal. If you're looking to invest in gold coins, sovereigns are a great option.
You can buy gold sovereigns at Atkinsons Bullion today, from our gold coins range, with the value reflecting the current price. You can also sell your gold coins to us for a potential profit. Get in touch with us today for more information.
This blog represents one person's opinion only. Please note, gold and silver prices may go down as well as up. Atkinsons Bullion & Coins accepts no responsibility for any losses based on information we have provided. We do not offer investment advice. Please carry out your own research before making an investment decision.