Spotlight on The Coins of The Perth Mint
The Perth Mint, Australia, produces some of the most popular gold and silver coins and bars in the world. One of the oldest mints still working in its original location, The Perth Mint has had a huge influence on Australia's precious metals industry.
Here we will take a look at the history behind the Perth Mint, and some of the most famous products that have contributed to its success.
A Short History
The Perth Mint was opened in 1899 as the third branch of The Royal Mint – the others being the Sydney Mint and the Melbourne Mint, which are now closed. These mints were opened in response to the Australian gold rushes, minting gold sovereigns and half sovereigns for the British Empire.
More than 106 million gold sovereigns and around 735 thousand half sovereigns were struck at the Perth Mint for use as currency throughout Australia and the British Empire, until Great Britain abandoned the gold standard in 1931. The mint then turned to making fine gold bullion bars and base metal Australian currency. The Perth Mint remained under the jurisdiction of Great Britain up until 1970, when ownership was then transferred to the Government of Western Australia.
In 1987 the Mint struck an agreement with the Commonwealth of Australia's Department of the Treasury to mint and market gold, silver, and platinum legal tender coins to investors and collectors across the world. A large ceremony during that year saw Prime Minister Bob Hawke launch the Australian Nugget Gold Coin Series.
In 2011, The Perth Mint created the world's largest and most valuable gold coin, breaking the Royal Canadian Mint's previous record. The coin measures approximately 80cm in diameter, is 12cm thick, and is made of 1,012 kilos of 999.9 fine gold. Featuring a red kangaroo on the reverse and the effigy of Her Majesty Queen Elizabeth II on the obverse, the coin is legal tender in Australia with a face value of A$1 million.
Today, The Perth Mint continues to manufacture many of the world's most popular coins and bars for investors and collectors.
Popular Products
The Perth Mint has manufactured many series of gold and silver coins, popular with investors and collectors due to their reputation for high quality and detailed designs, many of which are still in production today.
Australian Gold Kangaroo (Gold Nugget)
One of the few gold bullion coins to change their design every year, these coins were first minted in 1986.
From 1986 to 1989, the reverse of these coins featured various gold nuggets, however this was then changed to feature different images of kangaroos and are now usually referred to as 'gold kangaroo' coins.
Australian Gold Kangaroos are struck in 999.9 Fine Gold.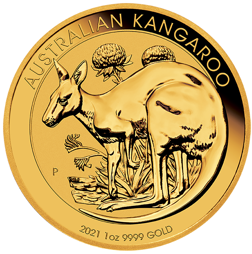 Australian Silver Kangaroo
First introduced in 2015, the Australian Silver Kangaroo is a bullion coin which features the same design each year showing a red kangaroo.
Each coin weighs 1 Troy Ounce of 999.9 Fine Silver.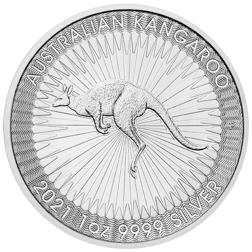 Australian Silver Koala
First produced in 2007, the Australian Silver Koala bullion coin features a reverse design depicting a koala, however the design changes every year. These coins can often have higher collectable value than some other bullion coins due to this yearly design change as well as limited mintages.
Each coin is struck in 999.9 Fine Silver.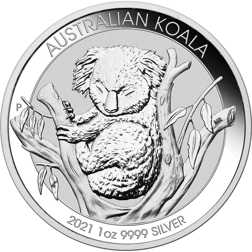 Australian Lunar Series
The Lunar Series I, II and III commemorate each year with a design based on the Chinese zodiac animal for that year. First introduced in 1999, these coins are available in both 999.9 Fine Gold and in a variety of weights and are recognised for their high-quality reverse designs.
Again, these coins can often have a higher collectable value than some other bullion coins due to the annual change in design, as well as used as great gifts or keepsakes to commemorate a special year.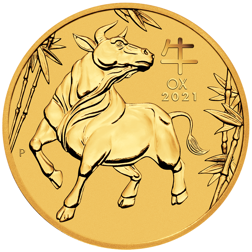 Australian Silver Kookaburra
Produced at The Perth Mint from 1990, the Silver Kookaburra coin is another which changes its reverse design each year, appealing to both investors and collectors.
Always featuring a kookaburra, a bird native to Australia, these 1oz bullion coins were struck in 999.0 Fine Silver until 2018 when the purity increased to 999.9.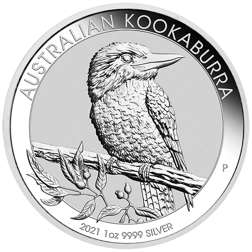 This blog represents one person's opinion only. Customers should conduct their own research and take advice before making an investment. We do not offer investment advice.