Busting 5 Common Myths About Investing in Gold
The value of gold has been ingrained within human civilisation for thousands of years, with this precious metal long being the number one choice for currency. However, over time, misconceptions have developed around the realities of investing in this most precious of metals, with many believing it is difficult to buy, or only an option for the wealthy. To help investors separate fact from fiction, here we will debunk some of the most common myths around gold bullion investment.
Misconception 1: You Need to Be Wealthy to Invest in Gold
This is completely false. You don't require great wealth in order to buy gold bullion. Investors can start building a portfolio with just a small amount of money, taking your first step by starting small and buying gold for any amount of money that you have. For example, when buying gold coins for investment you can choose from a variety of smaller weights such as 1/20oz, 1/10oz, 1/4oz, 1/2oz and 1oz, meaning gold investors can start their portfolio from less than £100.
Remember, you can always start small and add to your portfolio as and when you can afford to, then watch the progress of your gold investments as they grow.
Misconception 2: Gold Is Difficult to Buy and Sell
Buying and selling gold bullion is now easier than it ever has been, due to the internet. Here at Atkinsons Bullion, we make the process of buying and selling gold coins and bars simple, straightforward, transparent, and secure. Simply shop online from the comfort of your own home 24 hours a day and enjoy our competitive prices and great customer service.
When it comes to selling your investment, Atkinsons also ensure that you can sell parts of your gold portfolio easily and securely with us, getting the best possible price for your bars and coins.
For over 30 years, we have prided ourselves on providing a value-driven service for our customers. If you're looking to buy or sell coins or bars, we specialise in the purchase and sale of gold and silver, providing a trustworthy service to customers throughout the UK.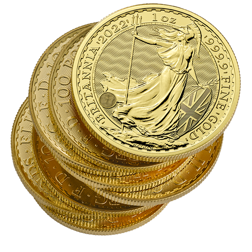 Misconception 3: Investing in Gold Is Risky
Some investors may try to convince you into believing the myth that gold investments are risky. However, most of the risks that are associated with other forms of investment are usually positive for gold. Historically, gold has acted as a hedge against rising inflation rates, and time and time again has been used as a safe investment haven during global political and financial crisis.
It's also important to point out that, although the price fluctuates constantly, the price of gold has never gone to zero, which can be a risk with other investments.
Misconception 4: Gold Is Outdated
In today's technological world, gold can seem somewhat old-fashioned in comparison to other types of investments, such as Bitcoin and other cryptocurrencies. However, physical gold has many advantages over these types of assets.
Unlike cryptocurrencies, gold is a physical asset – it is solid, it can be held, it is real. Gold does not depend on technology that can falter and is more than some 1's & 0's in a computer. We can almost guarantee that in a few hundred years down the line, gold will still be there as a store of value, as it has for thousands of years. Can the same be said about Bitcoin?
Misconception 5: Gold Does Not Provide Returns
Since the early days of civilisation, gold has been used as a form of currency and a tangible means for preserving wealth. However, some people are critical of gold because it doesn't pay any returns. However, this is not completely true. Interestingly, past records show that after the end of the gold standard, the price of gold has greatly increased long term. This shows that even though investing in gold doesn't constantly expel short-term dividends to the investors, it has provided a competitively positive return on a longer-term basis than many other assets.
It's important not to misunderstand the role and purpose of gold. Gold is money, and buying this precious metal means holding a form of money that has been a store of value for thousands of years in order to secure our future wealth. Its purpose is for long term security, not purely to spit dividends.
The Bottom Line
In a world of political and economic uncertainty, precious metals are often seen as a safe haven offering many advantages that other investments cannot. If you want to protect your financial future and take control of your own wealth, gold bullion could be a sensible way to invest.
Now that you have been educated in some of these myths about gold investment, we hope that you'll feel more confident in making a more informed decision about gold's place in your portfolio.
If you have any questions or need any advice on investing in gold and silver bullion, our friendly and knowledgeable team are always pleased to help. Please call us on 0121 355 0620 or email info@atkinsonsbullion.com.
This blog represents one person's opinion only. Customers should conduct their own research and take advice before making an investment. We do not offer investment advice.
This blog represents one person's opinion only. Please note, gold and silver prices may go down as well as up. Atkinsons Bullion & Coins accepts no responsibility for any losses based on information we have provided. We do not offer investment advice. Please carry out your own research before making an investment decision.