How To Sell Gold & Silver Securely Online
For gold buyers, you want to make the most of your investment in your precious metals portfolio. If you have invested in physical gold in the short term or long term, you will want to make sure that your investment delivers when you decide to sell it.
Investors who have invested in gold may have some concerns when it comes to selling this precious metal on the internet. At Atkinsons Bullion, we have a guide to help you navigate the process of securely selling gold or silver online.
Our latest blog covers the safety considerations that come with selling gold online.

Selling Online Has Never Been Easier
Buying and selling gold bars and gold coins has never been easier than it is now, due to the internet.
It's important that you stay updated with the price of gold to ensure you get a good indicator of how much your assets are worth. You can always see the current gold price as it fluctuates, on our website, at any time of the day. If you have a portfolio of gold bars or gold coins that you want to sell, keeping up to date with the asset prices can help aid the decision-making process on selling your gold assets. This will ensure that you, the investor, are more likely to make a profitable sale when it comes to selling gold online.
Ensuring Your Safety When Selling Gold & Silver
Whether you are new to investing in gold and silver, or a seasoned veteran, you want to make sure that the assets you sell are with a trusted bullion dealer. You want to make sure that you get a good return on investment when selling parts of your gold and silver portfolio.
There are many things you need to consider when selling these two precious metals, with safety being the top priority. It's important that you do your research if you are looking to sell parts of your gold or silver assets from your portfolio.
Here are just a few more things to consider when selling your gold and silver assets online:
Go to a reputable bullion dealer
You need to make sure that the bullion dealer has excellent security on their website, as well as reputable reviews so that you minimise the risk of making a loss on your investment.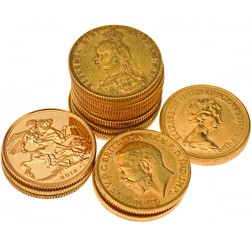 Selling gold online to a knowledgeable and trusted bullion dealer is a safe and reliable way to sell your precious metals. Having the information available online about the buyer through the research you've done will inform whether you want to proceed with selling your gold or silver to an online buyer.
Find out the price of your goods before selling your gold
One of the most important things you can do before selling your gold is to find out how much your bullion is worth. Here at Atkinsons, we have a team of experienced appraisers standing by to give you an accurate indication of the selling price of your gold or silver bullion, ensuring that you are getting a fair price for your items every time.
You can see an up-to-date list of the current prices we are paying for some of the most common products such as Britannias and Sovereigns etc. on our 'Selling to Atkinsons' page. Prices vary depending on the item.
Selling your gold assets online is safe and convenient
It's easy to sell your gold and silver assets online from the comfort of your own home. Whether you live inside or outside of a city, you can sell those precious metals more quickly without having to spend a lot of time travelling with your coins and bars, or inside a physical bullion dealer store.
How to Sell Gold Securely with Atkinsons Bullion
As a precious metal investor, it's important that your investment in gold and silver pays off. Working together with a trusted bullion dealer can ensure that you can sell parts of your gold portfolio securely while getting the best possible price for your bars and coins.
For over 30 years, we have prided ourselves on providing a value-driven service for our customers. If you're looking to sell coins or bars, we specialise in the purchase and sale of gold and silver, providing a trustworthy service to customers throughout the UK.
When it comes to how to securely sell your gold online with us, we have a simple four-stage process on our website:
Look for the price of your assets by going onto the gold bar or coins pages
If you are unable to find the price of your assets, email our team at info@atkinsonsbullion.com or call us on 0121 355 0620 for a free quote.
Once you've found the price of your asset, download and complete our selling form. After you've filled the form out, call us so we know your items are coming to us.
After you've completed these three steps, you will need to send the form and your gold bars, bullion or coins to us.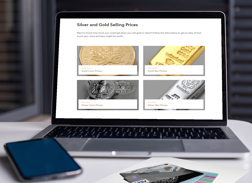 The price will be confirmed with you via phone call upon receipt and validation of your gold or silver, and once a price has been agreed, payment will be made to you via bank transfer within 72 working hours.*
At Atkinsons Bullion, we put safety at the heart of selling your gold and silver portfolio. You can be assured that if you sell your bars and coins with us, it can be done safely, while getting the most out of your gold and silver investments. Security is our top priority when it comes to selling your assets with us.
You can speak to our team, who can help you with any questions you may have about selling your gold and silver assets in your portfolio on our website.
This blog represents one person's opinion only. Customers should conduct their own research and take advice before making an investment. We do not offer investment advice.