5 Questions to Ask Before Selling Gold Sovereigns
Do you have gold sovereigns in your possession? If so, there's a chance you might be looking to sell them on to make some extra money. Perhaps you're an investor who wants to put their money elsewhere to grow your gold portfolio? Read on below to learn the questions people usually ask before they sell their collection of gold sovereigns.
Before selling gold coins, it's important to understand exactly what you have and why buyers will pay good money for your gold Sovereigns.
1. What Are Gold Sovereigns?
The British gold Sovereign is a gold coin that was first issued in 1489. The name originates from the original large coin featuring a portrait of the monarch Henry VII, sitting on the throne. The inverse of the coin had the Royal Arms of England and a Tudor rose.
Original full gold sovereigns were made of 23-carat gold before Henry VIII lessened that to 22 carats. The coin's weight was reduced continuously up until 1604, when the gold sovereign was last minted. The Sovereign coin as we know it today was first minted in 1817 as a British one-pound coin for circulation and weighs 7.98 grams of 22ct gold.
Various gold sovereigns are still in circulation amongst the collectors' community. Depending on when they were made, coins will have different members of the royal family engraved onto them. Some coins are rarer than others and can be worth more to collectors. One such rarity is the Edward VIII who abdicated the throne quickly, meaning his coin has been valued at around £500,000.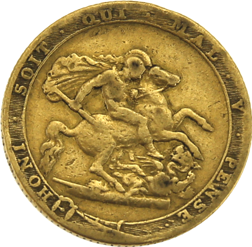 2. Should I Sell My Gold Sovereign Coins?
If you are looking to be an investor or need to make some money quickly, then you may be thinking about selling your gold coins.
We understand if you're unsure about letting go of your prized possessions or if you're just curious about the value of your gold Sovereign, that is why you can get a valuation from Atkinsons Bullion by contacting us, or sending in your gold by post. Our expert team will inspect your coins and give you a fair offer. If you're happy to proceed, you will receive your payment via bank transfer quickly. If not, then you can keep your items until you're ready to sell. See our sell to us page for more information on how to sell your coins.
3. Are Dealers Interested in my Gold Sovereigns?
Some dealers only buy back coins you have previously purchased from them. Other dealers are more inclined to buy gold they have not sold to you previously, but they might pay a lot lower than market average. At Atkinsons Bullion, we sell gold and silver, but also buy coins and bars back from you at a fair price every time, whether you bought them from us or not.
Whenever you sell your gold coins, you should know the spread - the difference between the price which dealers sell and buy their gold. The larger the spread, the more profit that dealer makes. This means you are able to see if you're being quoted a fair price, especially with rarer coins when the spread can be quite high.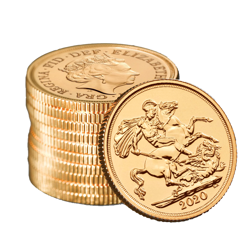 4. Should I Sell Gold Sovereigns Online?
Selling gold sovereigns online is a fast and convenient way to sell your coins.
Before selling your coins, you should remember that not every Sovereign will be worth a huge sum of money. It should be noted that most Sovereigns are worth their gold bullion value, and will not be listed separately on our selling page.
The gold price changes constantly, so it's worth researching the current gold price before looking to sell your coins, and which way they may possibly be moving, although we can never be completely sure which way the price of gold is going from one day to the next! The condition of your coin also plays a part in its overall value. Selling gold online requires research, and you must ensure your coin is evaluated by an expert.
The selling process is simple and involves posting your gold coins to the online dealer where they will be inspected and weighed. We are always happy to offer you the very best price for your gold and silver bullion items and have a team of experienced appraisers to give you an accurate indication of the price of your items, ensuring you get a fair price every time. The price is confirmed with you via phone call upon receipt and validation of your gold or silver, and once a price has been agreed, payment will be made to you via bank transfer within 72 working hours*.
5. How Do I Find The Right Gold Sovereign Dealer?
This is simple – do your research! It's a good idea to compare prices between websites, and also look at company reviews on websites such as Trustpilot. Before sending off your gold to a bullion dealer, ensure the postal company offers insurance on your Sovereigns. This means that if your coin goes missing in the post, you will be insured. We usually recommend our customers send their coins to us via Royal Mail Special Delivery, as this offers insurance up to £2,500.
You can see an up-to-date list of the current prices we are paying for some of the most common products such as Britannias and Sovereigns etc. on our 'Sell to Us' page. Prices vary depending on the item.
Atkinsons Bullion puts you first, which is why we're a leading gold and silver bullion and coins dealer. If you're looking to sell your gold sovereigns, get in touch with the team today, or see our sell to us page here.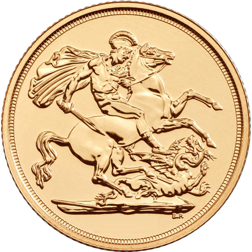 This blog represents one person's opinion only. Please note, gold and silver prices may go down as well as up. Atkinsons Bullion & Coins accepts no responsibility for any losses based on information we have provided. We do not offer investment advice. Please carry out your own research before making an investment decision.